I started teaching a new course of Basics One last night. Welcome to my enthusiastic and passionate group-I can tell it's going to be a great six weeks, full of well cooked food and lots of laughs. Check out my current classes at
Tante Marie's
-would love to see you there too.
Okra gets a bad wrap, mostly for the texture it takes on when it cooks. Some call it slimy, others absolutely love it. I've always been a fan but lean towards preparations that rid the okra of it's slickness. Fried, of course, if always fabulous. I also have a recipe for a Tomato and Okra Stew in
New Flavors for Vegetables
that will make a lover out of anyone. In today's
NY Times
this recipe for
Turkish Chicken and Okra Casserole
looks amazing. Chicken is braised in tomatoes while the okra gets a bath in vinegar and salt. When combined, the okra is cooked until just tender so you get some crunch without the overly-soft bite many people shy away from. Aleppo pepper, common in many Turkish dishes, kicks it up a bit (if you can't find any try a combo of smoky paprika and cayenne). The whole recipes takes just over an hour, mostly unattended, and it looks well worth the wait. Get yourself some okra and give it a try.
I've got a huge sweet tooth. I always have room for dessert and could eat it with (or instead of) every meal. Chocolate, Caramel, Nuts, Berries...love 'em all. The adoration, however, stops at cooked pears and apples. I don't know why but, when those winter fruits start to show their faces on dessert menus I am not a happy camper. Why, then, does this
Spiced Apple Pudding Cake with Caramel Sauce
in the
Washington Post
look so damn good? I'm a sucker for pudding cakes and, throw on the caramel-forget about it! I actually think I could see my way past the apples for this one although while nectarines and plums are still around I may try it with one of those.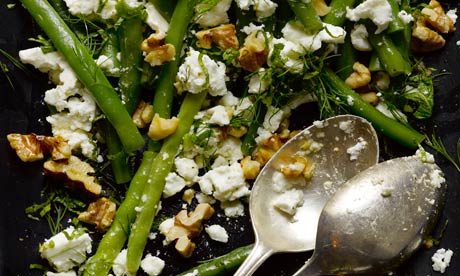 If you've been to the farmers' market lately you've probably seen an abundance of gorgeous beans. And not just your average green beans-scarlett runner beans, fresh borlotti beans, and other pole varieties usually seen the rest of the year only in their dried versions. Grab fresh beans while you can, they really are a special treat. This recipe for
French Beans with Feta, Walnuts, and Mint
, from Hugh Fearnley-Whittingstall in
The Guardian,
is just one way to cook seasonal beans. He also has Borlottis with Onion and Garlic (perfect room temp with imported oil-packed tuna) and Runner Beans braised with Cherry Tomatoes (old school beans that are really cooked but full of flavor). I even saw lovely varieties at my neighborhood Whole Foods yesterday. Get 'em soon as they don't stay around for long.
Happy Reading and Happy Cooking!