There is a reason I don't drink caffeine of any kind. Tonight I fell off the wagon, succumbing to delicious masala chai at Indian food with my friend MJ. I mean, it's not coffee, how bad can it be? I drink decaf like it's going out of style and "they" say it has some caffeine so I should be fine, right? Wrong! It's 2:45 am and I'm still wide awake. Oh my family is going to love me and my mood tomorrow...sorry guys, mom's going to need a nap.
In the mean time, while I'm up, here's what I'm reading today.
Those who know me well know that I'm a sucker for chicken livers. We grew up eating them, dredged in seasoned flour and pan fried, so to me they never conjured up the au courant idea of eating nose to tail (or beak to tail feather, in this case). They were simply dinner, and a good one at that. I don't make them often and, when I do, it's usually a rustic pate to spread on toast, ideally with pickled onions. This recipe for
French Chicken Liver and Green Bean Salad with Garam Masala
looks delicious enough for me to fry up a few of my own. David Tanis, in
The NY Times
, dusts his in Garam Masala. Garam Masala is an Indian spice blend that is easily found in stores, but if you have cardamom, black pepper, cumin, clove, nutmeg and cinnamon at home, toast the spices gently and grind them up together from a much fresher version. This is quick, simple, and gorgeous to boot. Maybe it's time you try some chicken livers too?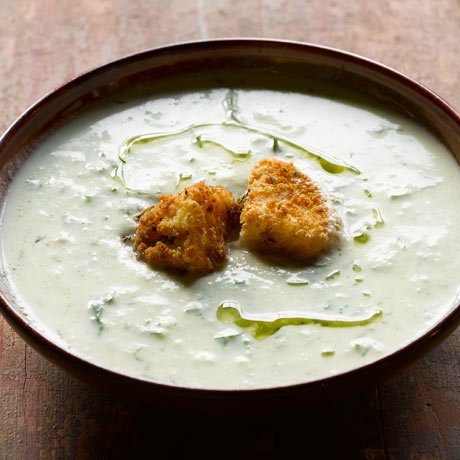 Chilled summer soups are the perfect solution to your local heat wave (in SF this means late September so, if you're in my hood, you can file this one away for a few weeks). In London's
Guardian
Yotam Ottolenghi has
four fantastic sounding recipes
that are not your usual Gazpacho. The first, Chicken and Buttermilk, is a pureed potato base with a lemony kick and it's served with poached chicken. The second, a Sourdough and Tomato Soup is a cold version of Papa al Pomodoro where the bread is used to thicken the soup. The Carrot and Coconut Soup has a Thai kick with lemongrass, chili, and kafir lime. Finally, and pictured above, is a Chilled Fennel Soup with Halloumi Croutons. Well, he may call them croutons but really those are lovely little nuggets of fried cheese. I know, they all sound good but I think he had me at "halloumi croutons".
Onion and Sage Foccacia
from
The LA Times
. We have Nancy Silverton, of La Brea and Mozza fame, to thank for this beautiful bread. She took part in the paper's series of Master Classes where notable chefs shared their "tricks of the trade". You can watch
this video
for Nancy's tips and while you're there, try your hand at her other versions:
Roasted Pepper and Chile
or a simple
Olive Oil and Rosemary
. Once you master the basic dough, you can get as creative as you like.
One last plug, also from
The NY Times
. Apparently the kitchen at The French Laundry has been getting more and more requests for gluten-free versions of many of their signature dishes. Not one to scoff at what his customer's want, Thomas Keller had Lena Kwak, his "culinary researcher", develop a gluten free flour that acts like all purpose flour. They've cleverly named it C4C, or cup for cup, and it's available at
Williams Sonoma
. I have so many friends who follow a g.f. diet, I'm anxious to give it a shot. Here's
the scoop
.
Happy Reading and Happy Cooking.