The best of what I've read from the food sections...enjoy!
Braising is my favorite method of cooking. Slow and low heat transforms tough (and cheap!) cuts of meat into that melt-in-your mouth texture that screams "comfort". In today's
New York Times
John Willoughby writes about
braising without browning
, odd to those of us used to the traditional method of coaxing out flavor from those caramelized meat juices. Like John, I've made some Moroccan and Greek stews that skipped the browning step and, I'll admit, they were still damn tasty. He sums it up well when he calls the flavors "less robust, but equally flavorful, in a gentler way". Try it out with these
Braised Chicken Thighs with Indian Flavors
. Lots of fabulous spices and seasoning are sure to make you forget you skipped the browning, and your splatter-less kitchen will appreciate it too.
Making homemade puff pastry is a chore. A "laminated" dough means it requires several hours of chilling and turning-a process of folding the dough, rolling it out, chilling it down, and doing it all again and again. It's a labor of love that creates the flaky layers we adore in this dough. Several years ago I discovered a "quick"
method by Nick Malgieri
and the
LA Times
has their own version
here
. Using a food processor to cut in the butter eliminates some of the turns and folds but still yields amazing dough that you can use in dozens of ways. I particularly like the
Savory Mushroom Turnovers
but if sweets are more up your alley, the
Fresh Berry Tart
looks like a perfect spring dessert.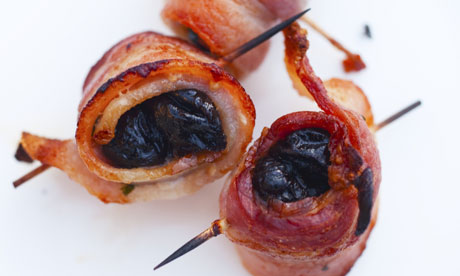 Angels on Horseback are traditionally oysters wrapped in bacon and grilled or broiled. Devils on Horseback subs the oysters for dried fruit. Dating back over 100 years, you'd think these appetizers were very 21st century-isn't everything wrapped in bacon these days? Nigel Slater, of
the Observer
, takes this British nibble and gives it a twist by
wrapping prunes in bacon
and stuffing them with a bit of mango chutney. I love the sweet/smoky/savory combination here, and the texture contrast between the crispy bacon and tender fruit. I've done this with dates and dried figs, stuffed them with cheese and almonds, and used pancetta in place of bacon-it's all good. Pick your favorite dried fruit, be as simple or as creative as you like with the fillings, and bring on the bacon. Before you know it you'll have a whole new version of an appetizer your great, great grandma used to eat.
Happy Reading and Happy Cooking.