I'm cooking dinner for some extended family tonight and found myself at a loss when planning the menu. The sun is shining bright out here and my usual February braises and stews just don't feel right. So, I'm bucking the season and fixing a summer-like meal, fit for the weather and plenty delicious-baby back ribs, slaw, a watermelon and feta salad, and parsnip/potato mash (ok, that part is definitely not summery). So Cal strawberries are at the market too. Not the finest of the season but after too many months of apples and pears they are tasting delish to me. I'm feeling some shortcake...
Here's what I'm reading today:
My go-to slaw is pretty straight forward-bit of mayo, vinegar, celery seed, sugar, and some s&p. Sort of looks like the forgotten cousin to his version,
Curried Slaw
from
Mustard's Grill
in Yountville, via the
LA Times.
Equally as simple, but a hell of a lot more exciting, this is a mayo-free slaw, which I know a lot of people love. It calls for "prepared Indian curry paste", not something I keep on hand so I'm going to make mine with a bit of Thai red curry paste instead. I'm sure either would be fine. Love the idea of stuffing it into a sandwich with shredded chicken too...yum.
My first, and only, real Southern style Shrimp and Grits was at a tiny restaurant on Kiawah Island, South Carolina. It was sensational, buttery, rich, and amazing (topped only by my next meal of fried chicken livers, grits, and gravy...oh lord). I've never made the dish because it has felt like one of those things that could never live up to my memory. Today, however, I read
The New York Times
article about chef Sean Brock at Charleston's Husk restaurant. Brock brings modern techniques to Southern classics but this recipe for
Shrimp and Grits with Roasted Tomato, Fennel, and Smoked Sausage
echos many traditional flavors. At the restaurant he tops his with braised and fried ribbons of pig's ear but if you want to leave that out of your version, I think it'll be just fine.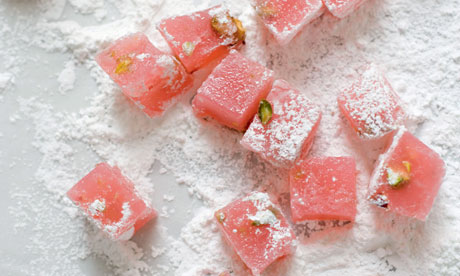 If you're feeling like this year is the time to get away from chocolates on Valentine's Day, let
The Guardian
help you out with these gorgeous
Rose Water Turkish Delight
candies. Studded with pistachios and just chewy enough, Turkish Delight is not too sweet but still a wonderful homemade treat. While you're over there you'll also see the recipes for Raspberry and Passion fruit Pastilles (much like French
Fruit Gelée
) and Pink and White Vanilla Marshmallows, playful and quite adorable I might add.
Happy Reading and Happy Cooking!