We've all heard that breakfast is the most important meal of the day. Well, it is. Protein in the morning kick starts your day like nothing else, giving you the energy you need when the caffeine wears off and keeping you on track for the chaos that is your morning. Eggs are a great bet, like the
Balsamic Fried Eggs
from San Francisco's
Foreign Cinema
. But that's not all...in today's
San Francisco Chonicle
you'll find a
slide show
with 15 different easy breakfast ideas, from
Green Smoothies
to
Ricotta Pancakes
, even a
Quinoa and Berry Parfait
. After reading
this article
recently where it mentions one in five of us get our breakfast at McDonald's I think everyone deserves a little kitchen inspiration when it comes to that oh so important meal.
I taught a class all about veggies last night and the favorite recipe of the evening was a celery root soup-made very simply with celery root, shallots, and celery sauteed in butter until tender, simmered in water, and pureed. The citrus flavor that comes from celery root manages to be rich and light at the same time. In today's New York Times this Celery Root, Potato, and Apple Puree caught my eye. I've been loving Martha Rose Shulman's "Recipes for Health" column lately because she manages to write healthful recipes that actually look, sound, and taste appealing-no sacrificing taste for nutrition here. This mashed potato alternative will not only be lighter than your usual butter and cream filled batch (not that there's anything wrong with those), but the apple and celery root create a dish that has big flavor. I think mashed potatoes are often a vehicle for something else-sauces or stews-but not necessarily tasty on their own. Adding celery root and apple makes this a dish that can now stand on it's own...welcome to the table mashed potatoes.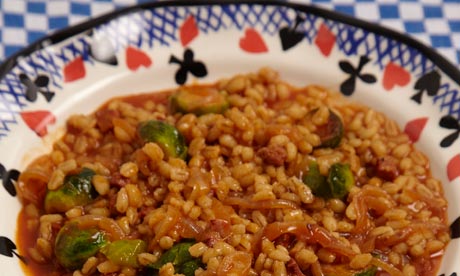 Over in the UK, the Guardian's Marcus Wareing writes a series of quick and easy dinner recipes. I particularly liked today's Brussels Sprouts, Chorizo, and Barley "Hot Pot". Not a hot pot in the true Asian sense but, an almost-one-pot meal that needs little else to become a filling and delicious dinner. Pearl barley is simmered while chorizo and caramelized onions mingle with a little tomato and smoky paprika. It all gets tossed together with golden Brussels sprouts to become almost paella like in its flavors by the end. I love his suggestion to substitute sun dried tomatoes for the chorizo if you want to keep this vegetarian, but I can't personally imagine forgoing the chorizo...that's just me.
Happy Reading and Happy Cooking!