Welcome to 2011. If you're new to my site, I'm glad you're here. My Wednesday posts are my take on the best of the best in the week's food media. Traditionally, food stories are printed each Wednesday in major newspapers. While this has changed in some cities, I still think it is the perfect day to be inspired by new recipes. I cull through what's out there and pick the three recipes I think my readers would most enjoy-delicious and fresh, usually simple but I'll occasionally throw in a challenge. Saving you the time it takes to wade through everything, here's your curated version of this Wednesday in food. Enjoy.
Melissa Clark, of
The New York Times
, never dissapoints. Her "A Good Appetite" column always has recipes for the busy cook that are exactly what I love to eat. This week it's a
Roasted Cauliflower Salad with Walnuts, Watercress, and Gruyere
. Roasting cauliflower is the perfect way to bring out it's sweetness and I think it converts people who swear they don't eat the stuff to fans after just one bite. In the time it takes the cauliflower to roast (about 30 minutes) you can prep the rest of the salad, pour a glass of wine, and toast some crusty bread. It's the ideal dinner on a Meatless Monday or serve it with a braised winter stew for a more hearty meal.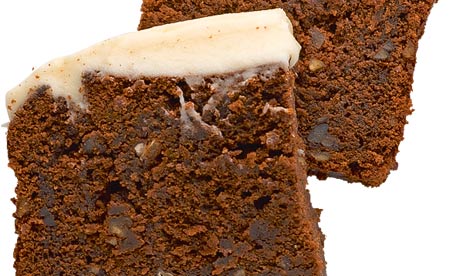 I read many food magazines from the UK and Australia. One thing that always strikes me is the inherent assumption that readers have at least a clue about cooking. Directions are always less intensive, terms like "deglaze" and "cream together" are used without three additional sentences explaining exactly what to do. When I read this recipe for
Pumpkin Chocolate Mud Cake
in
The London Observer
what struck me was not only how easy it is but that in the US this recipe would probably have had five more steps of explicit directions. This is what scares people away from baking. But, read through it and you'll realize a moist, chocolatey, rum frosted cake is just a couple bowls and one hour away-and all that in one paragraph of a recipe.
For an uber-quick weeknight meal, here is
Honey Mustard Glazed Grilled Salmon
, from
The Atlanta Journal Constitution.
Love recipes that take less than a half-hour to make, especially when you can throw the rest of your meal together at the same time. With four ingredients you're sure to have on hand, a beautiful piece of fish can be glazed and grilled (even broiling or roasting would work) in about 15 minutes. I'd serve mine with a salad of avocado and grapefruit and some quinoa or brown rice. Any fish works here too-sure, everyone loves salmon, but ask your fish monger for his or her recommendations based on the best local fish in your area. If you have an iphone, the Monterey Bay Aquarium's "
Seafood Watch
" app is the perfect way to educate yourself about smart fish choices.
Happy Reading and Happy Cooking!