Welcome to my weekly post of the best of the best from newspaper food sections. I read the papers, find what I love, and bring it here. Saves you the time of culling through everything, and hopefully I'll turn you on to some new dishes you might not have found. Enjoy!
Fresh herbs and tomatillos are whirled together in the blender to create this
vibrant Mexican sauce
for shrimp from today's
NY Times
. Tomatillos, resembling green tomatoes but actually more closely related to the gooseberry, should be bought fresh in the produce section with their husks still attached. Always rinse them well under warm water as they tend to have a sticky film on their skins. They can be a bit on the tart side so you'll often see recipes balancing this with a pinch of sugar. This recipe calls for no sugar but when you taste your sauce, feel free to add a bit if it seems a little too bitter. Pick up some excellent corn tortillas, make a pot of black beans or a quick cabbage slaw and this dinner will be on your table in under 30 minutes.
For another quick weeknight dinner, try these
Kofta Kebabs
in the
Washington Post
. Ground lamb is given African seasonings, with a big kick of heat, and formed onto metal skewers. They're a bit like oval shaped meatballs but the habanero, cinnamon, curry powder, and cloves will transport you far, far from Italy. If the heat of the habanero isn't your thing, a bit of seeded jalapeno can be used in its place to tame the fire. When I make dishes like this, although they come together very quickly, I like to make the meat mixture early in the morning and let it sit in the fridge all day. The meat absorbs the spices better and the flavors really shine through.
The Post
also has a recipe for
Zucchini with Bulgur
which would be a lovely companion to the kofta.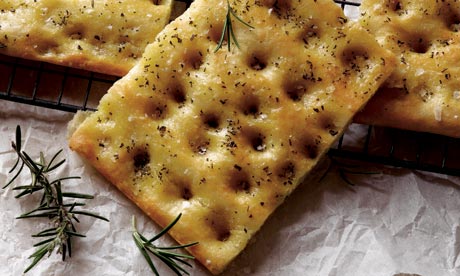 If you've got a bit more time to spend in the kitchen, why not fire up a batch of
Rosemary Foccacia
? In London's
Guardian
Hugh Fearnley-Whittingstall writes all about rosemary. If you're ever thinking of planting an herb, this one grows like a weed no matter how weak your gardening skills are (take it from one who knows). Who knew that "
Rosemary was burned in courtrooms and hospitals to purify the air and ward off infection, and it was even believed to prevent the bubonic plague – in 1603, when the plague polished off 38,000 Londoners, the price of rosemary rose from one shilling for an armful to six shillings for a few sprigs (and you could buy a pig for about a shilling back then).
" Well, these days the herb has a more humble place, in the kitchen, and I think this foccacia is one of the best places to let it shine. Warm out of the oven, toasted for breakfast, or crisped for croutons-who doesn't love homemade foccacia?
Happy Reading and Happy Cooking!