When I decided to pick up and leave Seattle for San Francisco, I'd quit a big corporate job to enroll in culinary school. I had lots of support from family and friends, but none more so than the dad of my best friend. His name was Glenn and I'd known him since my early teenage years. He was big, boisterous, opinionated, and smart-intimidating sometimes but sweet as could be too. He was the first 'foodie' I'd known, well before the term was popular. He knew wine, particularly French wine, like the back of his hand and he loved good food. He sent me off to San Francisco with a copy of the
Guide Culinare
by Auguste Escoffier-of course then I had no idea what it was. Whenever I came home Glenn would ask if I'd been to Chez Panisse, if I'd learned to make a veloute, or if I'd met Kermit Lynch when shopping for wine. As time went along I was able to speak Glenn's language-I knew a sancerre from a chablis, I'd made cassoulet, and I'd even been to Provence, one of his favorite spots in the world. We continued to talk about, and enjoy, all kinds of food and wine over the years. He loved what I was doing and always talked to me with an amazing amount of pride. It was a privilege to be close to Glenn and I will miss him dearly. I think of him as I write today, knowing he'd never want me to stop exploring my own love for all things delicious.
If you read
my blog last week
, you saw the article from Mark Bittman in the
NY Times
called
101 Fast Recipes for Grilling
. Melissa Clark follows up this week with four mouth-watering recipes for your grilled leftovers. Extra Italian Sausage from last night? Make
Italian Sausage Sandwiches with Pickled Pepper Coleslaw.
Your grilled steak can transform into
Vietnamese Style Rice Noodle and Steak Salad
.
Chicken Quesadillas with Avocado Cucumber Salsa
will make your leftover chicken feel anything but left over. And,
Lamb and Couscous Salad with Chickpeas, Mint, and Feta
is the perfect redux for grilled lamb. Everything looks so tasty I'm grilling extra on purpose next time!
I think rice pudding is one of those things you either love or hate. I've never met anyone who's "eh" on rice pudding. I'm a lover-it conjures up soul-satisfying comfort food
and I can't get enough of the stuff. In today's
Los Angeles Times
they've printed the
Rice Pudding recipe
from a restaurant called the
Lazy Ox Canteen
in downtown LA. This is rice pudding at another level-cooked, cooled, folded with soft whipped cream, and topped with caramel sauce & almond brittle. I know, right? I rarely meet a rice pudding I don't like but I think this version may be the Oscar-winning cream of the crop. Can not wait to make it! If you beat me to it, I want details.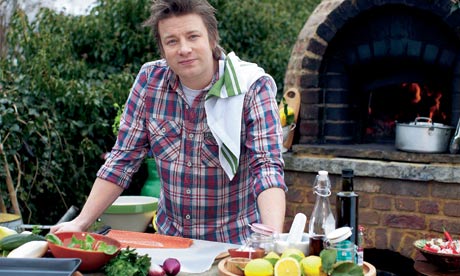 Wish I could tell you this picture came from the backyard garden party I had last night, when my dear friend Jamie stopped by....sadly, not all wishes come true. But, in today's
London Guardian
I found Jamie's recipe for homemade
Gravadlax
, the cured Swedish style version of lox. It might seem intimidating to cure a side of salmon but Jamie's recipe will dispel any fears you've had about tackling this project. Get the best salmon you can and give yourself two days to let the fish cure in the fridge. Jamie tops his with the traditional dill, salt, and vodka but he also covers it with a layer of grated beets and demerara sugar (natural brown sugar). This sweet/salty combo will be stellar on the fish, which he serves thinly sliced and topped with a simple sour cream mustard sauce. Brunch, lunch, or dinner...homemade and lovely.
If you happen to be in the Seattle area this weekend, come by Williams Sonoma in Bellevue Square. I'm doing a short demo around 10am and then signing copies of
Cooking from the Farmers' Market
beginning at 10:45. Would love to see you there.
Happy reading and Happy cooking.