Sorry for the lapse in my roundup last week. Re-entry after my long Seattle trip plus a busy week of book PR had me a bit sidetracked. Happy to be back!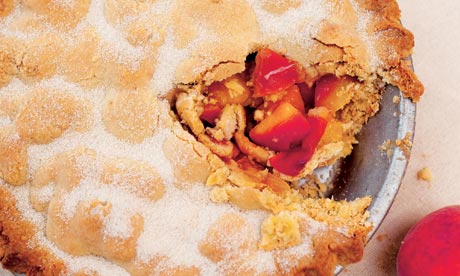 Peach Pie evokes summer, the old days, and heaven for most people. Buttery, flaky pastry bursting with peak-of-the season fruit baked in an old-fashioned pie tin...does it get any better than that? In today's Observer, Nigel Slater ups the ante a bit by studding his crust with a bit of lemon and his fruit with a bit of orange. The hint of citrus will make those peaches really shine without sacrificing their natural sweetness. If ever there is a time to really pull out the stops for pie crust, this is it-no store bought crust is going to be worthy of this filling. Written in Slater's very approachable style, the crust recipe is not time consuming or difficult (by the way, caster sugar is super fine white sugar but regular white sugar works too)

. My favorite part of the recipe? His suggestion that "a jug of cream may be welcome". Absolutely!
I have a weakness for cookbooks from clubs and community groups. You know the ones-Junior Leagues, church groups, school teachers, or synagogues. Their plastic spiral bindings and home-style recipes conjure up visions of the way a community or neighborhood used to be--centered around gatherings, potlucks, and good food. Many of these books have become classier over time but they still include recipes that take you back to days that seem much simpler. A perfect example is the Chicken Salad recipe in today's Washington Post. The recipe comes from a cookbook by the local D.C. chapter of the League of Women Voter's. I'm sure it's been served at many a "luncheon" and taken to a meeting or two. It's curried chicken salad with grapes, pineapple, and Major Grey's chutney. You can just taste it, right? It's not necessarily current or trendy but, you know, sometimes the old favorites are exactly what you need, potluck or not.
I love me a good fish taco! There is something about that balance of textures, temperatures, and flavors that make we weak in the knees. When I bite into a soft corn tortilla and get crunchy cabbage, rich crema, and crispy coated perfectly cooked fish, I'm one happy camper. I had some surprisingly delicious fish tacos this week at San Francisco's Woodhouse Fish Co.-not a Mexican restaurant but they are incredibly skilled at getting that batter just right. In the San Francisco Chronicle there is a lengthy article on creating perfect fish tacos. With recipes from Tacolicious as well local fish taco guru Nick Fasanella, you can now conquer them at home. It's a bit of work to get them perfect so be sure to read the article. If you aren't feeling up to it, try one of the restaurants they mention. After seeing what goes into making them so tasty you'll be all the more appreciative next time you're eating out.
Happy Reading and Happy Cooking!