Countdown to Fathers' Day-do you have a plan yet? Here are some options if you're cooking dinner for dad.
If dad's a sushi guy, this
Tuna Watermelon Ceviche
just might do the trick. I've had a Vietnamese style dish much like this before and have to say the combo of crispy fresh watermelon with silky tuna and herbs is a beautiful thing. When you go on the quest for your ahi filet, remember you want sushi grade tuna-the best you can buy. The acidic marinade will "cook" the fish a bit but you still want to find a fish monger who carries super fresh tuna. There are no official FDA standards for calling a fish "sushi grade". The term itself is basically good marketing but a reputable fish monger will tell you if the fish is ok for eating ceviche style or not (it often refers to the fish having been flash frozen briefly to be sure any parasites are killed off). In terms of pre-packaged/shrink wrapped tuna labeled "sushi grade"-it is not an option. Buy the good stuff, it is for dad after all.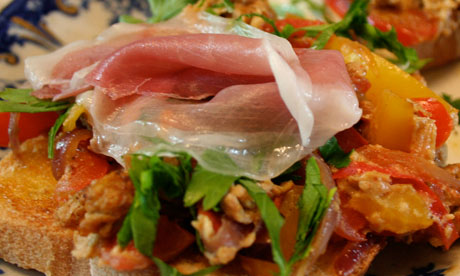 (Susi Smither/The Guardian)
He'll really love you for this one:
Piperade on Toast
. On the website for London's
Guardian/Observer
the food is always stunning. This particular recipe caught my eye for it's ease, good looks, and contrasting textures. Piperade is a Basque style combination of peppers, tomatoes, and onions, sauteed until tender and sweet. This version adds some softly cooked eggs and a thin slice of Parma ham (or prosciutto)-just enough protein to call it lunch, even dinner. Put it all on crunchy toast and you've got sweet, salty, crunchy, and fresh in each and every bite. This is food I love to eat!
I usually cook what I'd call 'rustic food'-food that looks good naturally without much fuss or garnish. When I saw this salad it called to mind something much more sophisticated, looking like a dish I'd be served in a restaurant as opposed to a creation from a home kitchen. That said, it's easy.
Fennel and Smoked Salmon Salad
is basically just that-paper thin layers of salmon topped with fennel, lemon, olive oil, and a sprinkle of salt and pepper. Talk about a perfect match of textures! The sweet salmon and licorice scented fennel are a natural combination, not to mention the hint of lemon in there. Reserve some of the fronds on top of the fennel-these are the pieces that resemble fresh dill-they work like fresh herbs as a garnish in the salad. When you look for fennel at the market it may be labeled "anise". You want full bulbs, pale green with no brown spots, and the stalks and fronds should still be attached. You remove the stalks/fronds before coring and thinly slicing the bulb. A
mandoline
or (my preference) a
Japanese style Benriner slicer
work great for getting it nice and thin. I think this would be perfect for brunch, lunch, an appetizer, or dinner. What a beauty.
Here's to all the dad's out there (mine especially!).
Happy Reading and Happy Cooking.