Last night I finished teaching a six week series called Basics Three. I loved this group of students and just wanted to give them a shout out for the amazing food they cooked, especially last night. Nicely done!
You can check 'em out on my Facebook fan page.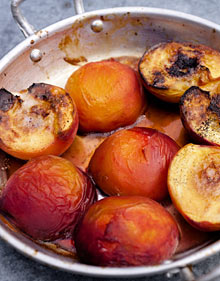 Who doesn't love crispy fried chicken? A crunchy crust that, when shattered with your teeth, reveals moist and juicy chicken inside. It's not an every day project but when summer rolls around and you set your sites on eating al fresco, you need a good fried chicken recipe. In today's LA Times they've published a recipe with a lot of the hallmarks of the fried chicken I love. First there is a dry rub that sits on the bird over night. Heavy on the salt it acts much like a brine, keeping the meat moist and seasoning at the same time. Next comes the buttermilk-always necessary for juicy chicken. The acid from buttermilk is helps the meat stay nice and tender. These two steps take some planning ahead-first a rest overnight then another 4-6 hour bath in buttermilk. No work but definitely time you want to set aside. Finally, the coating for the chicken is a mixture of flour and cornstarch to create that extra-crispy crust you will love. You can't get around the oil part-this is fried chicken after all. If you have an electric frying pan (does anyone have those any more?), you can plug it in outside and fry there. This is what my dad always did and I've gotta say, no smell and no mess.
So when you're frying up that chicken, you want to think about a cool side dish to serve with it. I'm loving this Chickpea, Cuke, Tomato, and Avocado Salad. It's made with things I have in my pantry all the time (well, tomatoes start arriving when the season kicks in-very soon). Look for an English Cucumber instead of the waxed variety. This way the skin is totally edible plus I find them much less bitter than conventional cucumbers. Because the dressing for this salad has lots of acid from lemon juice it'll keep your avocado from immediately turning brown, which is nice if you want to make it in advance. If you really want to crunch-it-up, I'd add some pita chips just before serving or even crumbled feta cheese. Either way, this looks like my new go-to summer salad.
Happy Reading and Happy Cooking!