Happy February 24th. Not only is today the birthday of my sweet friend
Tori
but it's also National Margarita Day! Who knew? Whether you like yours blended or on the rocks, salted or not, you must admit, most days are good days for margaritas. While the traditional blend is generally tequila, lime, and triple sec, today's
LA Times uses some winter fruit
to "shake things up" a bit. Start with a guava margarita, move to blood orange, and finish it off with grapefruit. Yum, yum, and yum again.
When India meets Spain and they both knock on Mark Bittman's door, you know what comes out of that kitchen is going to be tasty. A simple eight ingredients, including the salt and pepper, make up this dish of Fried Chickpeas with Chorizo and Spinach. What makes this a perfect one pot meal is that everything could (should) be on hand in your kitchen. Spanish style chorizo keeps well since its already cured. Spinach should grace your produce drawer at all times. And, as far as beans in a can go, chickpeas are a pantry staple. Frying the chickpeas, a treat I first tried at the Blue Plate and have loved ever since, makes them totally and utterly addictive. The trick is to get them completely dry before they go in the oil, paper towels will do the trick just don't skip this step. I think I'd add a slice of crusty bread and a tall glass of Rioja and this would be an amazing dinner.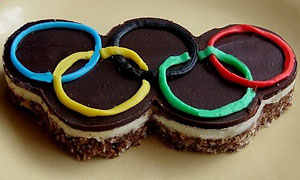 I grew up in Seattle which was, as far as a family road trip's concerned, a stone's throw from Vancouver, B.C. We made many trips up north and I've always loved the city. One recipe my mom adopted from our travels is for a cookie called a Nanaimo Bar, seen in today's Philadephia Inquirer. Now I don't think anyone in my family ever went to Nanaimo, B.C. but legend has it the creator of this recipe called the town her home when she won a prize baking it for a cook off.
Now the bars are all over B.C. and have clearly extended pass the border. Usually baked in a 9 x 13 pan, the cookies are cut into bars (although the Olympic motif, above, is clever). The base is a coconut graham cracker crust-sweet and very candy-bar like. The filling is a powdered sugar buttercream (in this case with "pudding powder" which I never saw on my mom's recipe card) and the top is bittersweet chocolate. These are sweet but, a small bar definitely satisfies the sweetest of sweet tooth.
Happy Reading and Happy Cooking (and Happy Margarita Day!).